Aziza Sadikova is a Berlin-based composer from Tashkent, Uzbekistan. She studied piano and composition at Uspensky Special Music School for gifted children. Aziza continued her studies at the Tashkent State Conservatory in the class of composer Dmitri Yanov-Yanovsky. She graduated with 1st class BMus (Hons) and MA in composition from Royal Birmingham Conservatoire and Trinity College of Music in London as composer and concert organist.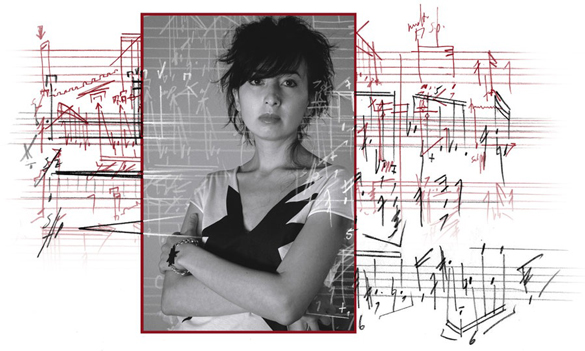 Her music performed at festivals: BBC Proms, BACHFEST, Schleswig-Holstein Festival, Wien Modern Festival, Philharmonische-Akademie-Konzerte in Hamburg, Young Euro Classics, Kasseler Musiktage, Audi Vorpsrung, Salzburg Aspekte, Randfestspiele, Klangwerkstatt Berlin, Nuova Musica Treviso, Sound Source and Southbank Festival in London, Theaterformen Hannover, Klang-Zeit Festival, Toscanini Festival, ReMusic Festival in S-Petersburg and others.
Aziza Sadikova works actively with conductors: Kent Nagano, Omer Meir Wellber, Keri-Lynn Wilson, Jonathan Stockhammer, Manuel Nawri,  Joolz Gale, Johannes X. Schachtner, Joseph Bastian and renowned writers: Arno Geiger and Jens Schroth. She works with award-winning soloists: Simone Rubino (percussion), Rebekka Hartmann (violin), Julian Steckel (cello), Jacob Reuven (mandolin), Thomas Gould (violin), Konstantin Manaev (cello), Matthias Bauer (double bass).
Her music explores various sides of New Music, ranging from unconventional instrumental techniques and experiments with music theatre elements with complex structural, rhythmic components (Ein Brief, Silberklang, opera Alles über Sally), or being influenced by dramatic and expressive dramaturgy of Romantic masters (Untitled for choir and orchestra, Cello Concerto), towards depicting elegant stylistic textures of music of Neo-Baroque (Variation, CPE Bach Cadences, Sonata for Giuseppe Tartini).
Among commissions, are: BBC Proms for new orchestral work "Marionettes",  Ensemble Quillo for an opera Alles über Sally in collaboration with Staatsoper dramaturge Jens Schroth and Kinderoper "Sterntaler", Berliner Camerata for cadences for BACH CD released on Label ClassicClips, from Zafraan ensemble in Berlin's Tanz-Uferstudios with piece "Stimme im Schatten", from duos and quartets for  Unerhörte New Music Series on Kafka Projects , Bach recomposed project with Deutsche Philharmonie Bremen, from Hamburger Philharmoniker, directed by Kent Nagano with Beethoven -Sadikova Project at Elbphilharmonie and Opera production Der Ring des Nibelungen at Radialsystem and Elbphilharmonie.
In 2017 Julian Steckel gave the premier of Aziza Sadikova's Cello Concerto with Philharmonisches Orchester Heidelberg under direction of Elias Grandy. A percussion concerto Lichtscherben , performed by star percussionist Simone Rubino in 2019,  received great acclaim at Beethovensaal in Stuttgart with SWR orchestra and now is part of his repertoire.
Aziza Sadikova is featured in concerts at BBC Proms, Berliner Philharmonie, Elbphilharmonie Hamburg, Gewandhaus Leipzig, Berlin Radialsystem, Berlin Konzerthaus, Leishalle Hamburg, Beethovensaal Stuttgart, Stadthalle Heidelberg, Staatstheater Ingolstadt, Uferstudios Berlin, Queen Elisabeth Hall, Barbican Pit Theatre, Meierhold Theatre Moscow, Bayerische Akademie der Schonen Kunste, Theatre Münster, Kaunas Philharmonie,Thomaskirche Leipzig, Bewardhalle Stockholm.
Her awards include Kunst-Förderpreis by Berlin-Brandenburg Kulturministerium and Europäischer Komponistenpreis.  She received several artist-in-residence scholarships at Künstlerhaus Wiepersdorf Schloss. BBC have chosen A.Sadikova for "100 women"   TV documentary. Her works have been featured on BBC Radio, Deutschland Radio Kultur, Rundfunk Berlin, Moscow TV Culture Channel, MDR Figaro Dresden, SWR2, BBC Radio 3.
She works with following orchestras:
Sonar Quartett, Ensemble Unitedberlin, Potsdamer Kammerakademie, Ensemble Kwartludium (Warsaw), Britten Sinfonia (London), Eunoia Ensemble (Basel), Ensemble Quillo (Berlin), Ensemble Nostri Temporis (Kiev),Ensemble L'Arsenale (Italy), Zafraan Ensemble (Berlin), Orfeas String Quartet (UK), Ensemble Batida (Switzerland),Hamburger Philharmoniker, Philharmonisches Orchester Heidelberg, Junge-Deutsche Philharmonie,VMU chamber orchestra Lithuania, SWR Symphonieorchestra, Peking State Opera, Deutsche Kammerphilharmonie Bremen, Swedish Radio Orchestra, BBC Philharmonic, Gewandhausorchester, Russian National Orchestra of M Pletnev, Toscanini Philharmonie, Orchestra Radio France.
works published by Boosey and Hawkes